It's official – the cheese game has changed, and some creative Canadian vegan businesses are leading the charge, marking a real churning point in the industry.
Gone are the days of vegans longing for those old classics like grilled cheese, cheese and crackers, or a creamy spread slapped across a bagel. You'll want to eat this stuff until the cows come home (that's sort of the point, right?). In all seriousness, there has never been a better time than now for vegan cheese consumers.
This welcome change has been fermenting for a while now, so we here at FAIR/SQUARE have put together a virtual cheese tour of Canada (in alphabetical order)
Basic Roots - Calgary, AB
When starting Basic Roots, founder Paula Bellavance had a simple and straightforward goal – to create great tasting non-dairy, GMO-free, vegan cheeses that mimic traditional cheese.
Basic Roots is a family owned, Canadian company that prides themselves on creating healthy cheese alternatives using whole, real ingredients. Through careful attention to detail, they produce innovative and unique flavours and styles that put them on the forefront of quality, plant-based cheezes.
We love their Truffle Brie Style Cheese.
Culcherd - Toronto, ON
Culcherd is a Toronto-based artisanal vegan cheese and butter producer with offerings such as Sriracha Jalapeno, Aged Sundried Tomato and Olive, a clever and delicious Everything Bagel, and limited time Holiday flavour. Their firm, hand crafted, and beautifully wrapped mounds of cheesy joy are sure to be a hit for any holiday party, or Nacho party for one on the couch.
Founders Tim and Liz have developed a deceivingly genuine palm oil-free butter from organic coconut oil and cashews that lends itself to frying for the serious #junkfoodvegans out there (grilled cheese, anyone?) It also comes in Cinnamon Swirl – so put that on your bread and toast it!
They also get bonus points for their completely plastic-free packaging!
Fauxmagerie Zengarry - Alexandria, ON
As an ecotoxicologist working at Health Canada for almost 20 years, Lynda Turner knew well how small changes can have huge impact on an interdependent ecosystem and that plant-based eating can drastically reduce climate change.
In her yoga teacher training, she worked to develop a Zen mindset, cut through the noise and find a way to be more at one with the environment and stand up for what she thought was right. 
It was through this mindful process of self-reflection that she decided to leave her government job to pursue her mission to prove that eating plant-based can be both simple and satisfying.
In 2013, her part-time cashew cheese-making experiments blossomed into a business she named Fauxmagerie Zengarry, a nod to her Zen outlook on life and her home in Glengarry.
They have a wonderful collection of recipes on their website that's worth checking out.
Fresh Start Fauxmage - Charlottetown, PE 
After a hectic 35-year career travelling and working as a professional actor and singer, Julain Molnar found herself in need of a Fresh Start. 
She was discouraged by the lack of high-quality, dairy-free vegan cheese products on the market, and as PEI is known as "Canada's Food Island", she thought it was time to put them on the map as an alternative cheese destination as well. Having been a plant-based eater for most of her life, she was excited to begin experimenting with different cashew and almond cheese formulations. After a lot of trial and error, and with the help of many supporters, she was able to develop their Fresh Start line of dairy-free cheese products.
Green Goddess Fromagerie - Guelph, ON
Founded by a family of lifelong cheese lovers, Green Goddess cheese was born in the kitchen, with a desire to achieve the alignment of ethics and health without compromising exceptional taste. 
Their mission is to make the highest quality artisan vegan cheese that is creative, delicious and versatile. Cheese that can stand alone on a cheese board, make the most luxurious pasta, take your salad up a notch, or inspire your creativity in the kitchen.
Each variety of our cheese has its own distinct texture, and level of firmness. With 15 unique flavours and counting, there is something for everyone, even the committed omnivores in your life.
Go visit their adorable store and production site in Guelph. They have many featured vendors and events on on Saturdays and don't forget to try their fabulous vegan cheese cake.
Humble Seedz
With a range of 3 cream cheeses and 4 saucy dips, Humble Seedz focuses on the softer side of the cheese spectrum. 
And, unlike most other vegan cheese, Humble Seedz is entirely nut-free! Having two busy and growing girls at home, the Humble Seedz founders quickly realized that school lunches were not going to be an easy task. With the goal of feeding their family and the knowledge they both had coming from the Dairy industry, they set out to put their cheesemaking skills to the test and create an allergy free cheeze that was safe for everyone. 
After much research sunflower seeds became their main ingredient, checking all the boxes; Grown in Canada, nutrient dense, low allergic reactions, and tastes great. 
Main Vegan Deli - Glencoe, ON
Main Vegan Deli was born out of a frustration and longing for better vegan comfort food alternatives. Their founder Helen started her journey like most others – she went vegan! A lover of rich and flavourful food, Helen struggled to find vegan alternatives that could satisfy her tastebuds. With a lack of diversity in the vegan cheese market she began to create her own.  
Helen's aim was to create a dairy alternative that not only had the appearance and taste of cheese but also acted like one! After much experimentation with flavour and texture, Main Vegan Deli was born.
Try their Rindless Bree when you get a chance, flavour and texture are absolutely beautiful. A staff favourite!
Nuts for Cheese - London, ON
Nuts for Cheese hardly need an introduction, as their creamy organic, and dairy-free, and cashew-based cheese wedges have been picked up by major grocers such as Goodness Me!, Whole Foods Market, Farm Boy, and Sobeys.
With a diverse range of punny offerings such as Un-Brie-lievable, Smoky Artichoke & Herb, Chipotle Cheddar, Red Rind, Super Blue, and recent addition Black Garlic, founder Margaret Coons (AKA, the 'Big Cheese') and her cheerful team have announced themselves as pioneers in the vegan cheese game. Whether you're looking to elevate a pizza, potato, or pasta dish – Nuts for Cheese has an option for you.
Plant Ahead - Saint-Léonard, GC
Melted, grated, grilled or sliced, Plant Ahead loves cheese in all its forms. They also love our planet and wanted to create delicious cheese made entirely from plants. 
From Feta cubes to cheese wedges in a wheel (their version of the famous Red Cow Cheese Triangles), Plant Ahead has an exciting selection of vegan cheeses that we can't wait to enjoy here in Ontario.
Pulse Kitchen - Okanagan Valley, BC
Opening in 2016, Pulse Kitchen is yet another small artisanal vegan cheese maker with dreams as big as the mountains that surround it. Coming at you straight out of the Okanagan valley, all of their products are gluten and soy-free, and contain – you guessed it – pulses! (which are great for you, and good for the soil they're grown in).
Their flavours include Sharp Cashew Cheddar, Cashew Kind of Blue, Almond Chevre, Almond Gruyere, Smoky Cashew Cheddar and are sure to raise the heartbeat of any get together.
Rawesome - Montreal, QC
Rawesome offers 6 varieties of cream cheese and two dips: Sour Cream and Tzatziki. Rawesome cultured cashew cheeses are a pure whole food non-dairy alternative, made only with raw cashews, filtered water and spices, cultured with organic enzymes. With no added oils, gums nor fillers, Rawesome offers a truly healthy vegan option, naturally gluten-free and soy-free too. Non-GMO.

Perfectly enhances the flavor of any food item, adding a creamy fermented nutty element in the mix, and a load of nutrition. It's great on sandwiches, wraps, paninis, bagels, pastas, rice and quinoa bowls, pizzas, soups, sauces, as a dip or side dish.
Spread'em Kitchen - Richmond, BC
Spread'em Kitchen is on a mission to connect with people through food and do as much good as possible!
It started in Mellisa's home kitchen as a weekend farmers market hustle. Just to earn some extra money so she could take some time off from her 9-5 to figure out what she really wanted to do with her life. She knew she wanted to be contributing to something meaningful, something that focused on sustainability. 
The highest-level of integrity is how we approach everything we do in our life and in our business. We never try to bullshit your tastebuds or fool your brain with cheap, empty ingredients doused in fake flavouring and colouring. We're not out to trick you into thinking you're eating cheese, that is not how we roll.  We use real time-honoured fermentation techniques applied to fresh cashew milk... and then let nature do its thing. It might take a little longer, but the result is a fresh, clean-tasting plant-based cheese with lots of flavour and a subtle tang. 
The Frauxmagerie - Meaford, ON
There's a Frauxmage for every taste.  Enjoy plant-based, dairy-free alternatives to aged and fresh cheese, including our True Blue, Boka, Cam, Swizz, Chevre, Mauxarella, Greek, Plant Parm and Curds.
Your artisanal, aged Frauxmage contains only raw cashews, nutritional yeast, vegan probiotics, salt, bacterial culture, and filtered water – no animal products or additional oils, so no cholesterol.
We love their take on a Camembert! The rind is legit and the cheese goes well with a fresh baguette and red pepper jelly!
The Very Good Cheese Co - Vancouver, BC
The Very Good Butchers have joined the cheese game. Or rather bought a local cheese brand, The Cultured Nut. The Very Good Cheese Co currently has 5 different vegan cheese in their portfolio that are all cashew based.
Vegcheese - Toronto, ON
Based out of Toronto, Vegcheese is a female-run, family supported business that brings nut and gluten free cheeses to hungry mouths all over the GTA. Their mantra is 'If we can't feed it to our family, we will not feed it to our customers'.
Founder Lori Sroujian uses a base of organic soy milk and organic coconut oil in her small batch, artisinal production process. Vegcheese can be found in boutique grocers across Ontario. Their fresh Mozz, and Garlic & Chive flavours are a hit at many vegfest events, and their Italian Black Truffle will send you straight to Tuscany…like seriously.
BONUS ENTRY
NONA Vegan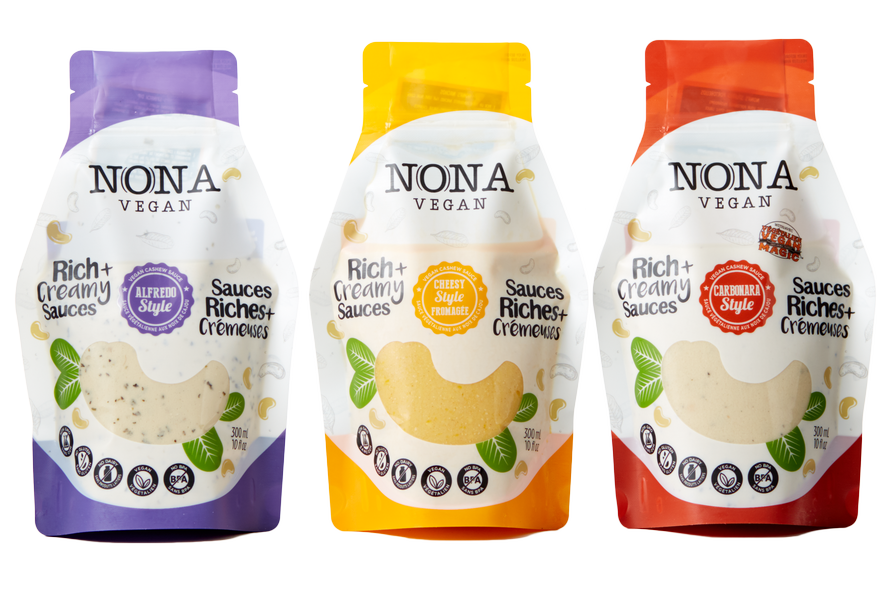 For all your vegan cheese sauce neeeds look no further than NONA Vegan! With a line-up of 5 vegan cheese sauces there is something for everyone. Even two nut-free varieties (Rose Sauce and Bolognese Sauce).
NONA Vegan was founded by Sauce Boss Kailey Gilchrist, as a tribute to her late Italian mother and is an award-winning, woman-owned, certified LGBTQ+ business. 
We love how versatile the sauces are, check out their recipe section for inspiration!
---