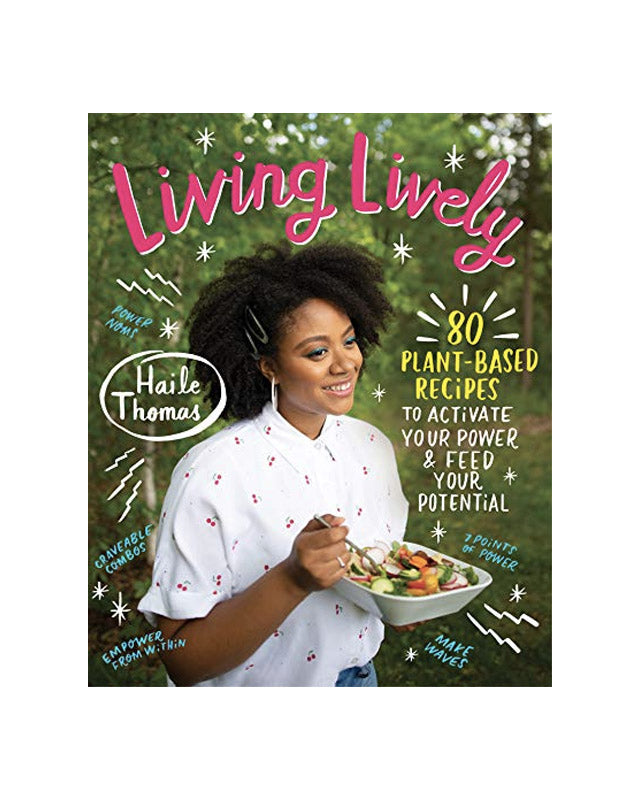 Living Lively
100% Vegan, we carefully vet all our products
Every purchase supports animal sanctuaries
Low stock - 1 item left

Inventory on the way
By a superstar nineteen-year-old activist and motivational speaker, a unique cookbook and inspiring guide that combines 80 delicious, wholesome, super-powered plant-based recipes with a 7 points of power manifesto to inspire the next generation of leaders toward self-reflection, critical thinking, and unlearning toxic ideas.
When her father developed Type 2 diabetes, eight-year-old Haile Thomas began a journey that would change her family's dietary habits, improve her dad's health, and radically transform her life. Haile's family began looking into ways to improve his condition without having to rely on medication with dangerous potential side effects. Inspired by her mom's research, and fueled by her love of food, Haile learned everything she could about nutrition. After seeing how dramatically she and her family were able to change her dad's health, she chose to expand her reach to make the biggest positive impact possible in the world--particularly in underserved and at-risk communities. At 16, she was the youngest to graduate from the Institute for Integrative Nutrition as a Certified Integrative Nutrition Health Coach. Now a social entrepreneur, speaker, and activist Haile is an advocate for conscious living who promotes resilience, positivity, and a healthy, nourishing lifestyle to young people everywhere.
Haile believes that to productively work toward our best selves, we must first fuel the vessel that supports us--our bodies. By incorporating healthy, plant-based dishes into our daily routine, we can boost qualities such as confidence, happiness, and positivity, giving us the energy we need to change our lives and the world.
Haile's delicious, nutrition-packed vegan recipes boost brain power, calm the body, and provide energy. Some of the sensational food in Living Lively includes:
• Golden Dream Turmeric Berry Chia Pudding
• Fruity Jamaican Cornmeal Porridge
• Potachos (Potato Nachos) with Green Chile Cheese Sauce
• Straight Fire Mac N' Cheese
• Korean Jackfruit Sloppy Jill
• AB & J Swirl Brownies
• Shortcut Sweet Potato Pie Boats
Living Lively
 combines these recipes with advice and insights from Haile's life as well as other dynamic, relatable young women, Gen Z leaders who are activating their power every day, including environmentalist and animal rights activist Hannah Testa, dancer and actress Nia Sioux, entrepreneur and mentor Gabrielle Jordan, global activist and sustainable fashion entrepreneur Maya Penn, and self-love advocate Luisa Gaffga. They promote not just physical nutrition but mental and emotional engagement, by paying close attention to the messages we receive from society, our personal relationships, and more to think critically about how they affect us and our outlook on the world.
These tools are specifically targeted at positive resistance, growth, and joy in what Haile calls the "7 Points of Power"--wellness, world perspective, media and societal influences, thoughts and spirituality, education, relationships, and creativity and giving. Beautiful and uplifting, Living Lively empowers us to take strong, positive steps to nourish ourselves, each other, our communities, and the planet.
Once you enter a shipping address, you will see our available shipping rates.
Ontario rates
Standard shipping: $15.00, FREE for orders over $100.00
Express shipping: $20.00
Cold shipping: $20.00, FREE for orders over $150.00
Gift Box Shipping: FREE
The free shipping promotion is not available for shipping to remote and rural areas (postal codes starting with P0 or K0).
Rates to other provinces*
Standard shipping: $20.00, FREE for orders over $150.00
Express shipping $30.00
Cold shipping $30.00
Gift Box Shipping: FREE
The free shipping promotion is not available for shipping to remote and rural areas (postal codes starting with A0, B0, C0, E0, G0, H0, J0, R0, S0, T0, V0). Cold shipping is also not available to these areas.
* Please inquire with us if you're looking to ship to the Northwest Territories, Yukon, or Nunavut.
Orders ship out Monday through Friday unless they contain refrigerated/frozen items.
Cold shipping orders ship Mondays and Tuesdays only.
Cold shipping rates include insulation and ice packs to help keep your items cold during transit.
Please familiarize yourself with our full shipping guidelines.